Fast, Reliable Air Conditioning Repairs in Fresno and Clovis.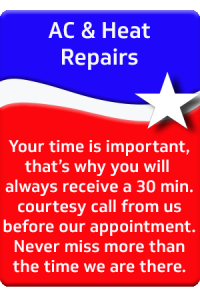 Broken AC?
Our air conditioning repair experts are highly knowledgeable in all aspects of ac repair. We can repair your ac quickly and provide you with cost efficient answers and reliable ac repairs. We pride ourselves in being able to provide answers to you and get you back up and running quickly when the other guys couldn't. We know our stuff! Last guy didn't show up? We always give a 30 minute courtesy call when we are on our way, no guessing our having to leave work too early. When we are on our way, you can be too.
A/C Diagnostic
*FREE with Repair Purchase
We Repair Most Makes & Models

100% Flat Rate Pricing, No Suprises!

Helpful, Friendly Experts

Licensed & Insured
Estimate For Replacement
Need A New System? We have many options to fit your budget.
Want to save by replacing more efficient technology?

Parts no longer available?

System old and inefficient?

Get your free ac & heating system replacement estimate today!
When should I call for an appointment?
My Air Conditioner isn't cooling the house anymore—

When your AC isn't making cold air, your need to schedule a service call. Many reasons can cause this ranging from dirty air filters to a bad thermostat to a bad control board. Even though replacing your filters can be an easy fix you can do, Precision Aire air conditioning repair technicians can fix problems with control boards or replace your thermostat.
I'm hearing noises I havn't heard before—

Noises like humming or buzzing can be a condensor fan motor going out or the main compressor locking up. Precision Aire air conditioning repair specialists can replace your motor or give options of your compressor is locked up.
Water is trickling or you see ice on your coils—

Water that trickles down your roof can possibly be a clogged pvc drain tube. Seeing ice around your ac coils is a sign your ac system needs to be serviced, air filter needs to be replaced or may be low on freon and should be addressed as soon as possible with our Precision Aire ac repair technician. If water is dripping from the ceiling, it's likely your drain pan in the attic is plugged and overfilling and needs to be cleaned and inspected.
Should I repair my air conditioner?
If your ac is a few years old, repair is a good option. If your system is 15 years old+, it may be time to evaluate cost of repair vs. a new system.
---
AC Repair Service
Call For Your appointment Today!
Servicing Fresno and Clovis areas with quality HVAC services. Phone: (559) 275-8866
Schedule a regular air conditioning repair or an ac Tune Up for your system before the hot summer season starts. (ex. Schedule your ac service in the spring, and your heater service in the fall.) You are more likely to get a better rate in the off season, and this allows for your melting fellow neighbors in need of emergency air conditioning repairs to be accommodated. Just need a tune-up for your air conditioner? Find out more about our Air Conditioning Service.
Testimonials:
Everything went very well..
I scheduled online for Precision Aire to come out to give me an estimate for air conditioning and heating. Their price was way cheaper than everyone else and Daniel was very informative and helpful. When they did the installation, it was the next day, they were very neat and fast.  Everything went very well and I would definitely recommend this company to my friends and family. Thanks Daniel!
Fair Price & Great Service!
Wow! Daniel and his crew are amazing! Neat, Clean, dependable. Did a super job for us, and went over the top to make sure the job was done right!!! Will always call them and refer to friends! Fair price and great service!
Great Service!
We used Precision Aire through our home warranty when our AC went out. Daniel came out promptly and assessed the problem, ordered the new part, and a crew installed the new fan and motor within 2 days. Daniel also came back for a follow up visit when we were experiencing some excess vibration. Again he quickly fixed the problem. Great service!
Great Job!
Great job! On time, great employees, did what they said they would. Great All Around Experience!
Great Job
Stacy is great and very helpful. The installation tech was knowledgeable and efficient. Great job on the new AC unit.
Very Detailed
Daniel was very detailed and took his time to make sure the heater was working properly before he left. I would highly recommend precision aire.
Courteous & Knowledgable
We've used Daniel and have satisfied both time....extremely courteous and knowledgeable. We've purchased 2 new units and used him for yearly servicing. Will continue to recommend.
Fast Service
Daniel came out and fixed our ac unit fast and gave us a really great deal.
Great Experience
"Whenever you contact a tradesman to do any kind of service in your home you always hope for the experience we had with Precision Aire"
We Service All Makes and Models